Możecie znaleźć moje prace tutaj:
/ You can find my works here: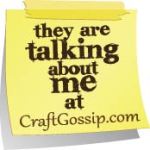 HERE and HERE and HERE and HERE



HERE

Od czasu do czasu zgłaszam moje prace do konkursów internetowych. Tylko raz uszyłam coś specjalnie na konkurs, więc gdy moje prace goszczą wśród prac finałowych, jest mi niezmiernie miło.
Oto przykłady prac zgłoszonych do konkursów:
/ From time to time I submit my works to internet contests. Only once I sew something especially for a contest, so when my works are in final, my heart sings.
Theses are examples of my works in contests:

1 miejsce w April Moda Bake Shop Contest / First place in April Moda Bake Shop Contest:

Poducha w finale Blogger's Pillow Party - April / Pillow in final of Blogger's Pillow Party - April:

Puf - II miejsce w Celebrate Color / Poof - 2nd place in Celebrate Color:

Planner - Honorable Mention w konkursie SLICED / Week planner - Honorable Mention in SLICED contest:

Kasetowy mini-quilt w finale Modern Mini Quilt Challenge / Tape Mini Quilt in Modern Mini Quilt Challenge: